#84 PK Michael Frisina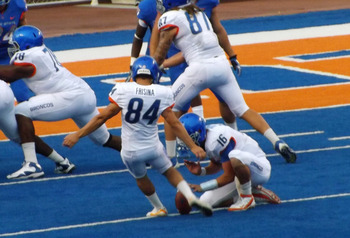 Frisina came to Boise State after earning all-conference honors at Saddleback Junior College and finishing as the highest-scoring kicker in school history.
Last season, Frisina played in five games and was 3-4 on field goals and 21-23 on extra point tries, including hitting 8-8 against Arizona State in the Las Vegas Bowl.
This year, Frisina is 10-15 on field goals and 32-33 on extra points for 62 points.